Lifelong Saints fan Elicia Ford couldn't be at the Superdome for the Saints season opener Sept. 10 because she was in Kazakhstan instead.
Though she was something like 7,000 miles from the 50-yard line, Ford celebrated the team's victory two days later by unfurling a Saints flag at an old Soviet nuclear bomb test site.
There are pictures to prove it. She and her husband, Stephen Rea, were dressed in puffy white coveralls, with air filter-equipped masks, hospital bouffant caps, radiation monitors, shoe covers, the whole bit.
They were two of the few living creatures around. Perhaps there were some birds flying over the enormous radioactive lake in what had been the bomb crater, and a tiny beetle crawling in the red dirt over which a mushroom cloud once rose, plus two New Orleanians who looked like Pillsbury Doughboys.
This requires some explanation
Ford and Rea aren't physicists, or anti-nuclear weapon activists, or anything like that. They're soccer fanatics.
At least her husband is. He's been all over the world watching matches.
Rea said that of the 55 countries in the Union of European Football Associations, he'd visited all of them, except Moldova and Kazakhstan.
So, when he learned the Northern Ireland national team was heading off to face the Kazakhstan team in September, he set his sights on being there for the match. Rea is from Northern Ireland, though he's lived in New Orleans for 19 years.
Rea said that for 12 years, he ran a travel agency, so he knows how to get around better than most of us. He's been to seven continents, 112 countries, and all 50 states.
As the couple prepared for the journey to Kazakhstan, they searched for other activities to round out the visit.
"We wanted to make the most of our trip," Ford said. "I didn't know anything about Kazakhstan, except it existed and it was far away."
Ground Zero
When Rea offhandedly mentioned that he'd discovered it was possible to visit a former Soviet nuclear test site, Ford jumped at the idea. "I pushed for us to go," she said.
It would be an adventure. The Semipalatinsk Test Site, as it's known, was just the sort of place her husband would love.
According to some very scary Googling, Joseph Stalin's first atomic bomb was detonated at the secret location back in 1949. And the place remained busy for the whole 40-year Cold War that followed.
By the time it was finally shut down in 1989, the Soviet military had set off 456 bombs at the remote location, which was also known as The Polygon. Most of the explosions were underground, but about a quarter of the fireworks went off in the clear skies over Kazakhstan.
Boom, boom, boom …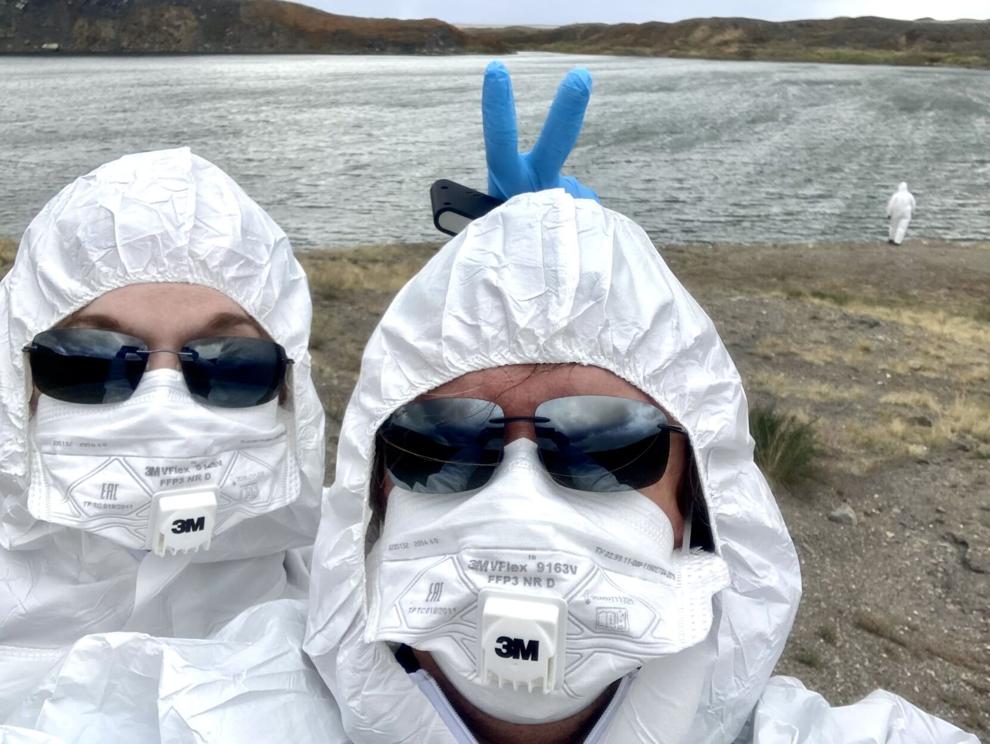 Seeking out the wrong places
Rea has an affinity for forbidden spots. He visited Libya at the wrong time to visit Libya, Bosnia at the wrong time to visit Bosnia and East Berlin before the wall came down.
"I've always been attracted to the unusual," he said. But it might be more than that.
Rea, who is 53, said he grew up in Belfast back in the 1970s when it was "a grim and dangerous place to live." For reasons he can't quite verbalize, he's drawn to places like that at times like those.
Post-Katrina New Orleans fit the bill. Rea is a former journalist and author who teaches adult writing classes at the Mid-City Yacht Club bar. He wrote a book, "Finn McCool's Football Club: The Birth, Death, and Resurrection of a Pub Soccer Team in the City of the Dead."
Ford, 38, is a lawyer from Jackson, Mississippi, who's lived in New Orleans for 13 years. She was born into the Who Dat nation: Her parents have been Saints season ticket holders since she was a little girl.
She said she rarely misses a home game and tries to travel to at least one away game each year.
Rea said there probably aren't a lot of "Mississippi girls" who would happily follow him to Kazakhstan. "She's always up for a caper," he said, "though there's probably a line in the sand somewhere."
In fact, there was a line in the sand at Moldova. Recently, Rea began planning a trip there, but Ford thought it was imprudent to visit a country adjoining Ukraine during the war. "The airspace is closed," she said. "It sounds like a bad idea."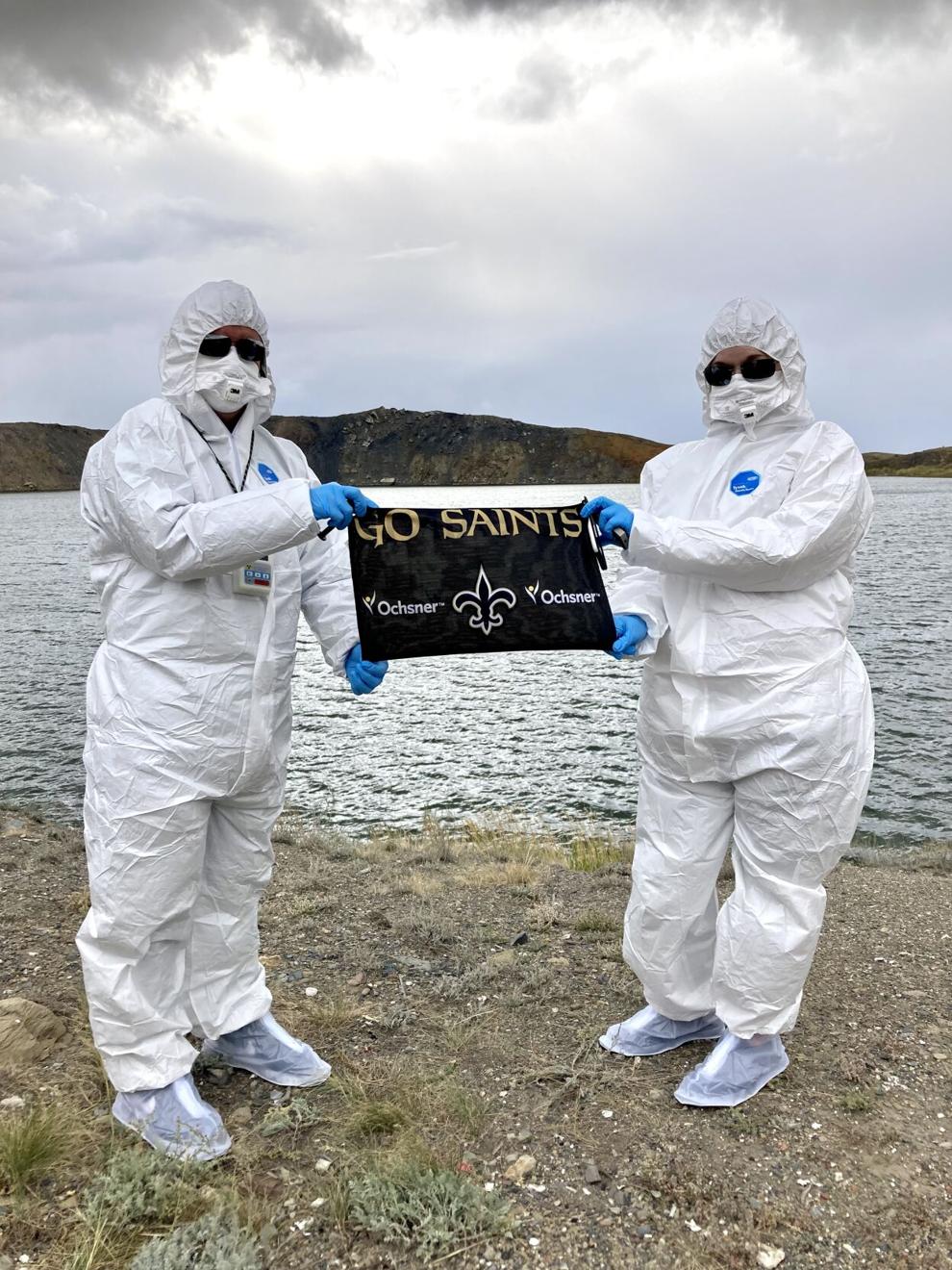 It's who we are
Marriage is a two-way street, of course. Ford has taken Rae to exotic places like Chicago; Charlotte, North Carolina; and Tampa, Florida, to watch Saints games. Atlanta is next, which may be a touch more sensible than Moldova.
The Semipalatinsk Test Site is the only such place in the world open to tourists. Surprisingly, it isn't exactly as popular as Disney World, despite the fact that the shuttle flight to get there, inside of Kazakhstan, was only 18 bucks.
Rea said it was eerie to think that, at one time, the bombs that produced the barren landscape were pointed at Washington, D.C., and London. Yes, he and Ford have seen the movie "Oppenheimer," which he said seemed "particularly relevant."
Duck and cover, kids.
The guide to The Polygon provided the protective garments and some instructions. Ford and Rea were told not to kick up dust by dragging their feet, not to touch anything and not to take anything.
Ford said it was "bizarre and apocalyptic."
The Saints flag Ford had brought along was a keepsake. She thinks she got it at a game sometime before 2010. Displaying it at Ground Zero was only natural.
"It's who we are, sports people," she said. "Waving the flag made sense to us."
Afterward, the Semipalatinsk Test Site guide returned Ford and Rae to a "clean zone." Their white suits were disposed of, but not the Saints flag. It was too precious. The guide suggested they wash it.
Note: The Northern Ireland national team lost to Kazakhstan. Rae says the Northern Ireland team always loses.